Getting Rid of the "Open File – Security Warning" Dialog August, 2009
I just moved to Windows Server 2008 R2 and have been harassed by this dialog: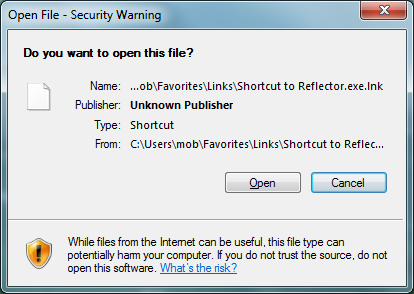 I had copied the links from my quickstart menu from my old installation to my new installation and these were considered foreign and "unsafe". Anyways, to get rid of this annoying warning altogether just go to you internet options (Either from IE or from you control panel) and click the Security tab. Next select the Internet zone and click the "Custom Level" button in the "Security level for this zone" group box. Under the Miscellaneous node find the "Launching applications and unsafe files" node and set it to Enable. Voila!